Dapo Abiodun is Not Prepared for Governance – ADC Candidate, Biyi Otegbeye
Barrister Biyi Otegbeye, Governorship candidate of the African Democratic Congress (ADC) has said that the Governor of Ogun State, Prince Dapo Abiodun is not prepared for the position he is presently occupying and should be voted out in the 2023 general elections.
The ADC candidate made this statement at the weekend during a dinner he hosted in honour of Chief Ralph Nwosu, National Chairman of the party in Abeokuta the Ogun State capital. According to Otegbeye "I have never seen anybody so unprepared to govern like the man there. This was a man who wanted to address the state, and never read his speech until the time of going on air only to go on television to be correcting his speech. That shows how unserious and unprepared anybody can be for leadership. But thank God their days are numbered and they only have four months"
In his own remark, the National Chairman of African ADC), Chief Ralph Okey Nwosu described Barrister Biyi Otegbeye as a man who is on the path to victory in the 2023 election.
Chief Nwosu addressed Otegbeye "as the governor in waiting" and Alhaji Olatunde Awonuga as "the Deputy Governor in waiting", adding that "we are going to celebrate very soon". 
Ha appreciated the leaders of the party who were present at the event, and specifically mentioned Chief Derin Adebiyi and Hon. Matemilola Adelanwa.
The National Chairman was accompanied by the ADC National Coordinator (Communications and Programmes), Ifenla Oligbinde; the South West Vice-chairman of the party, Rasak Eyiowuawi and his strategic Adviser, Khalil Balogun. 
He described the emergence of Otegbeye as prophetic,  "Sometime in August, one of my brothers here (He accompanied me to this place; I invited him specially), he told me that the governor of Ogun State will be ADC. And he said that Senator Ibikunle Amosun (SIA)..will play a major role in moving Ogun State forward. By then I've not heard about Biyi. I can assure you that it was early in August that he told me. I didn't take it serious. But today, when I reflect, I can see the wonders of God".  
He opined that people used to describe Ogun State as a Gateway State in a limited sense but it's more than that. He explained: "Ogun State is the Gateway to Nigeria. Unfortunately it has not been well defined. It is also a Gateway to Africa. You define the role of Ogun State in Nigeria. Somehow, you don't capture the role of Ogun State in Africa. Our man, our father, our Baba (former President Olusegun Obasanjo) is not just Baba of Nigeria. He's the Baba of Africa"
According to the ADC National Chairman, Ogun state is a blessed state with people of high calibre who have contributed immensely to the development of Nigeria like Chief Obafemi Awolowo, Chief Moshood Abiola, Chief Olusegun Obasanjo, Professor Wole Soyinka, Chief Shonekan, and to add SIA (Senator Ibikunle Amosun), who is going to take over the leadership where the founding fathers left it".
"Biyi, you are going to become governor in a special time. The governor of a time to show in word and in faith that Ogun state is a true modest state where OBJ and SIA are the shinning lights.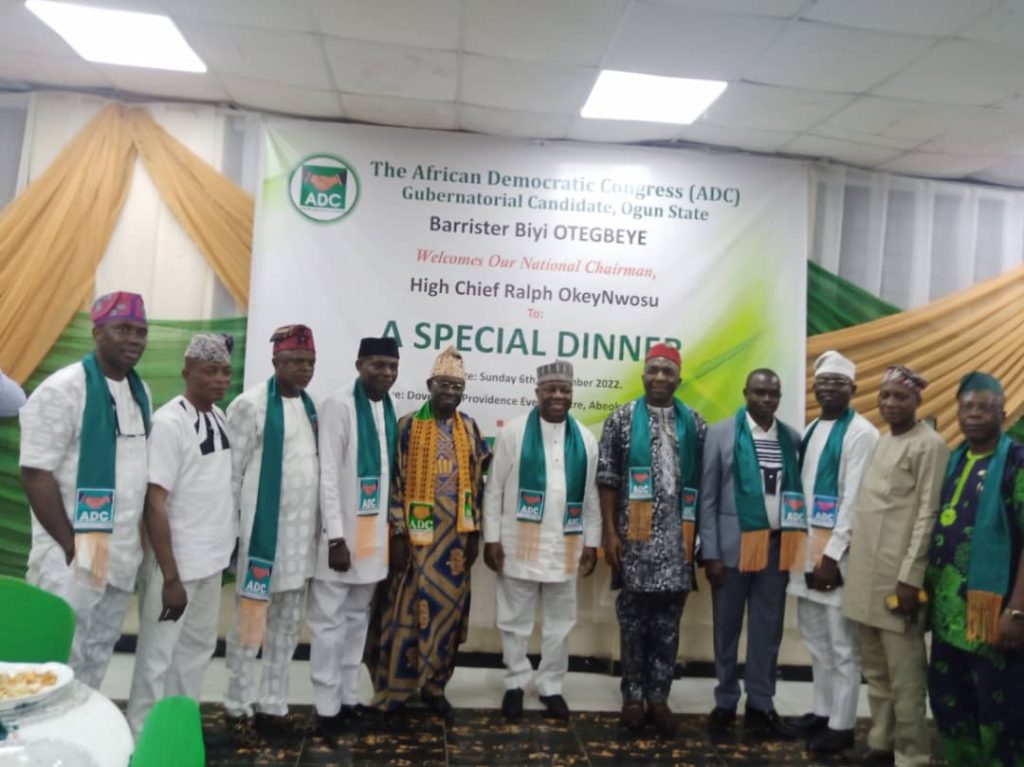 "And I can see your amiable Deputy Governor. With the legal and insurance background of our Governorship candidate and the industrial background of the running mate, Ogun State will set a pace in development that other parts of Nigeria will follow.
Otegbeye expressed his delight about meeting with Chief Nwosu, commending his resilience during the party's national crises, adding that he was able to survive the recent tussle at the national level because of his integrity.
He stated: "I had the opportunity of speaking with you twice during that crisis, and I assured you at that time and I am reassuring you in the presence of everybody in Ogun state that we are solidly behind you. We will not allow your legacy, your hardwork, your diligence to build this party to this level to be rubbished by anybody".
The ADC.governorship flagbearer disclosed he organised the dinner because he wanted the National Chairman to see the quality of ADC representation at all levels and to show that the ADC in Ogun State is focused and ready to win the election.
He stated that the competitors of ADC did not take the party serious until a month ago when they saw the party's large followership, and they resorted to intimidation and threats to cower members of ADC.
"But unknown to them, the more they intimidate the more we are strengthened".
A leader of ADC, Chief Derin Adebiyi, said the ADC is a party to beat in the 2023 election.
"Mr. Chairman sir, if anybody tells you that ADC is not on the ground or that Senator Ibikunle Amosun is nobody, they don't know what they are talking about".
The ADC Deputy Governorship candidate, Alhaji Olatunde Awonuga, appreciated the National Chairman for the visit.
He stressed that the combination of ADC election office seekers will trigger unprecedented development in the state.
Also at the dinner were members of ADC State Executive Committee (SEC} which included the Chairman, Hon. Matemilola Adelanwa, Deputy Chairman, Prince Adebanjo Adeniyi, the party's INEC Electoral Coordinator, Hon. Oluranti Oyewola, and Hon. Ezekiel Fayoyi.
All the party's candidates for the 2023 National Assembly and State House of Assembly elections were present at the dinner.
Leaders of the party at the meeting included Chief Derin Adebiyi, Hon. Toyin Ayebusiwa, Former Speaker of Ogun State House of Assembly, Rt. Hon. Muyiwa Oladipo, Former Deputy Speaker of Ogun State House of Assembly, Rt. Hon. Bolanle Gbeleyi, Alhaji Moshood Akinyele, Chief Bashiru Fadairo, Chief Wole Adesiji, Chief Wole Elegbede, Hon. Tunde Sanusi, Raheem Ajayi, Alhaji Olalekan Ajibona Adumati, Elder Sunday Otegbeye (JP Agba), Alhaji Jamiu Balogun, and Mrs Princess Olusola Awonuga.